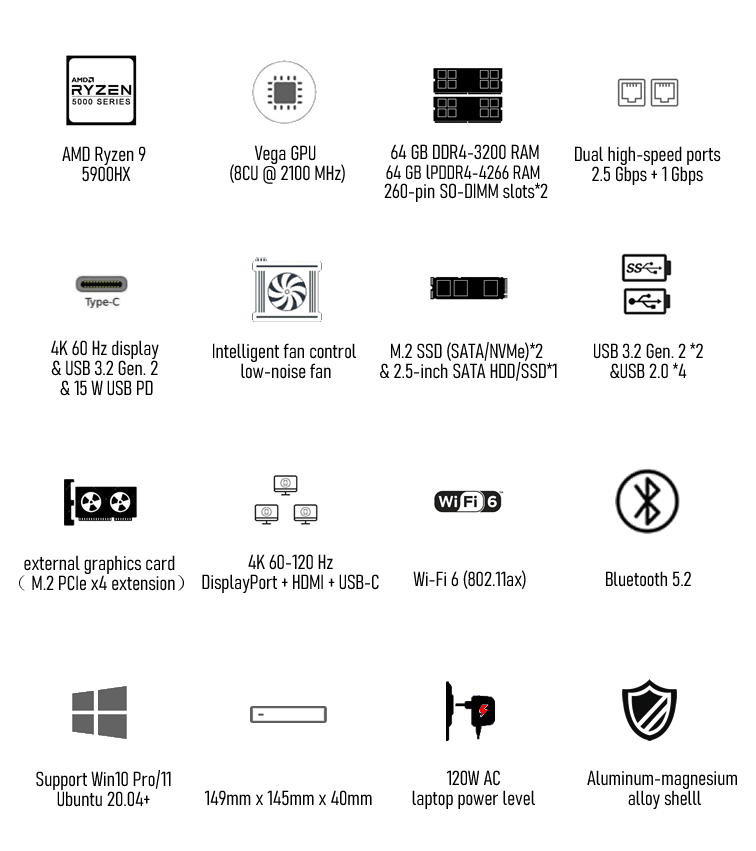 The AMD Ryzen 9 5900HX Processor is the most powerful CPU in a mini-PC. With 8 cores and 16 threads, it ensures seamless multitasking and lag-free switching while you work.Upgradable RAM and SSD can enhance the speead of open, software loading, and files loading. The AMD Radeon™ / Vega 2100 MHz GPU with 8 Compute Units provides serious graphics processing power to easily handle the demands of complex design software, UHD video editing and playback, or light gaming.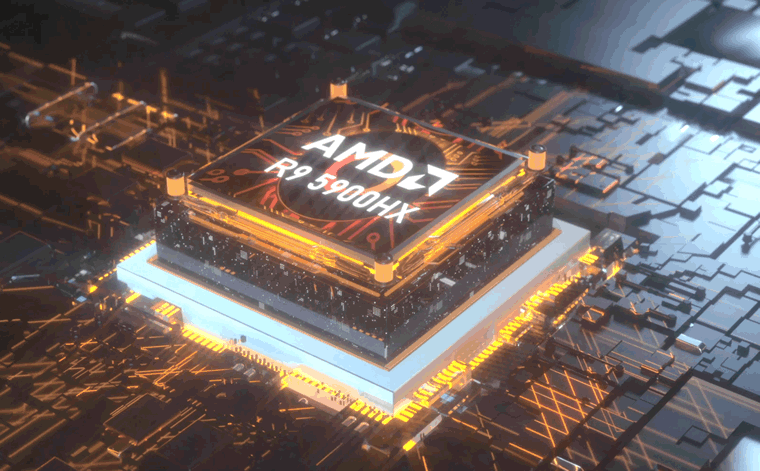 Based on advanced thermal modeling and simulation followed by real-world testing, we designed a professional-grade, pure copper heatsink equipped with dual heat pipes, and we selected high-thermal-conductivity (12W/mK) thermal compound to efficiently cool the system while preserving the small size.

Combined with our new intelligent "tidal cooling system"and a large-diameter low-noise fan, the S500+ provides efficient thermal dissipation and intelligent fan speed control to allow for peak operation when you need it, and reduced noise and power consumption under normal use. Our system ensures the CPU temperature remains safe, resulting in a stable system without crashes or"blue screens of death" when your PC is working hard. Fan speed and power consumption profiles can be controlled from the BIOS, which allows for efficient heat management while maintaining excellent noise control.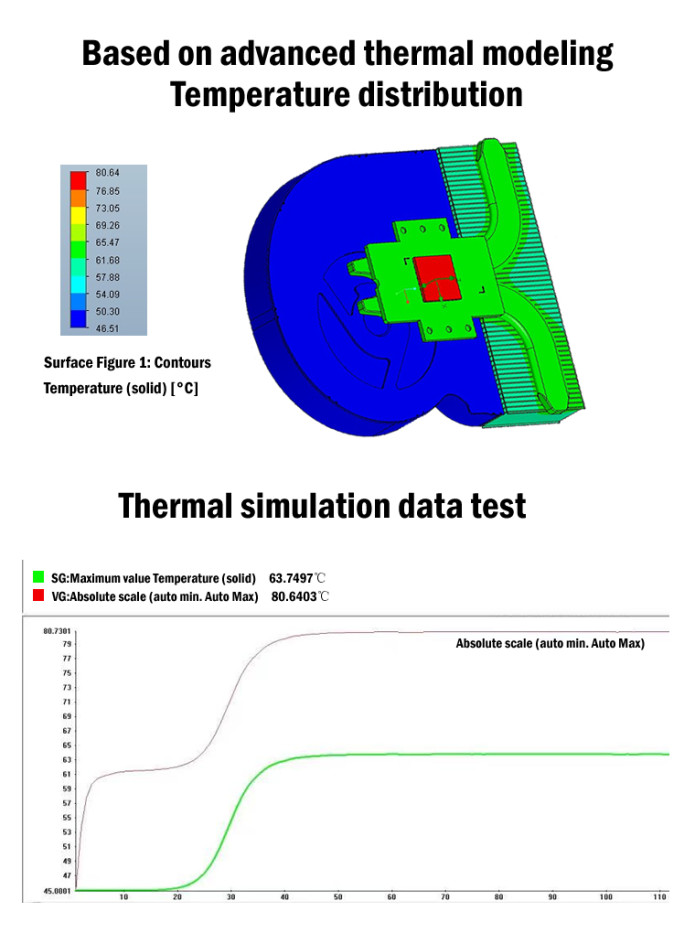 The X6 provides a large array of connectivity and expandability options both inside and out.
There are 6 "regular" USB ports (type-A), including two USB 3.2 Gen. 2 ports and four USB 2.0 ports to connect hard drives, scanners, cell phones, keyboards, and countless other peripherals.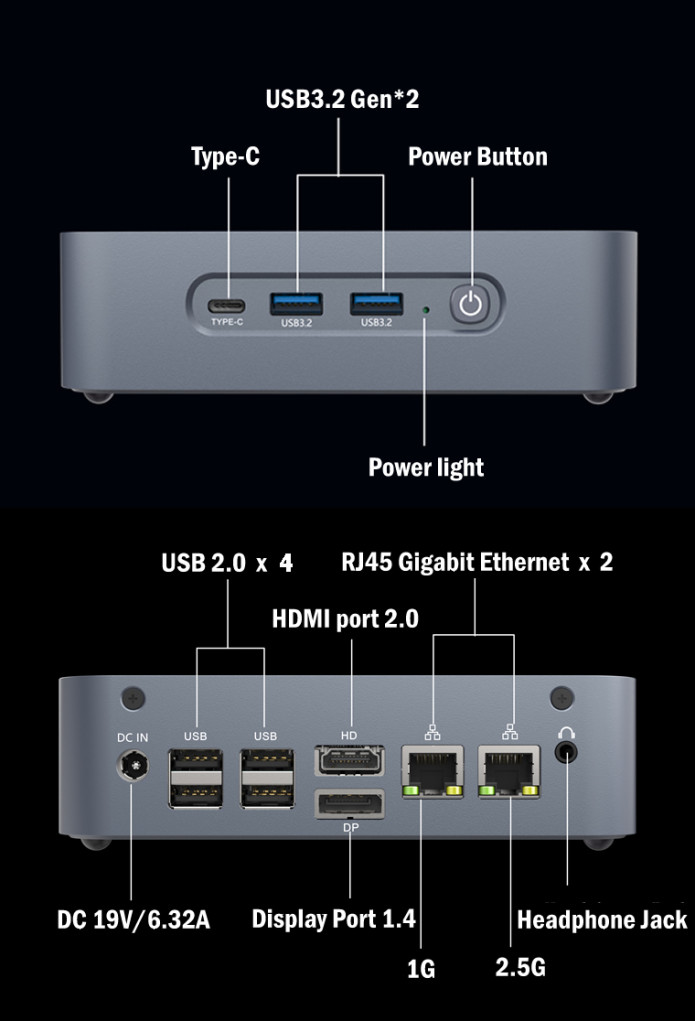 One USB type-C port provides even more versatility:
USB 3.2 Gen. 2 data transfer at 10 Gbps
 Video output supports 4K 60Hz display
15W (5V @ 3A) USB power delivery / fast charging to quickly recharge your phone or power other peripherals, like a small monitor.
You can power the S500+ by USB-C instead of the AC adapter (requires a 20V5A USB-C  power supply, not included)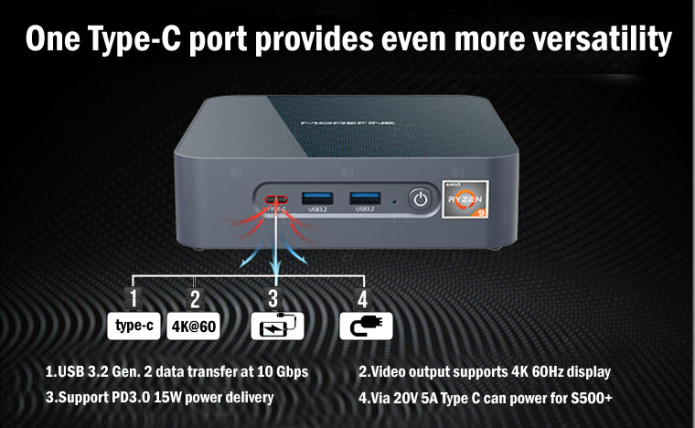 Bluetooth 5.2 provides transmission distance up to 300 meters and speeds up to 2 Mbps.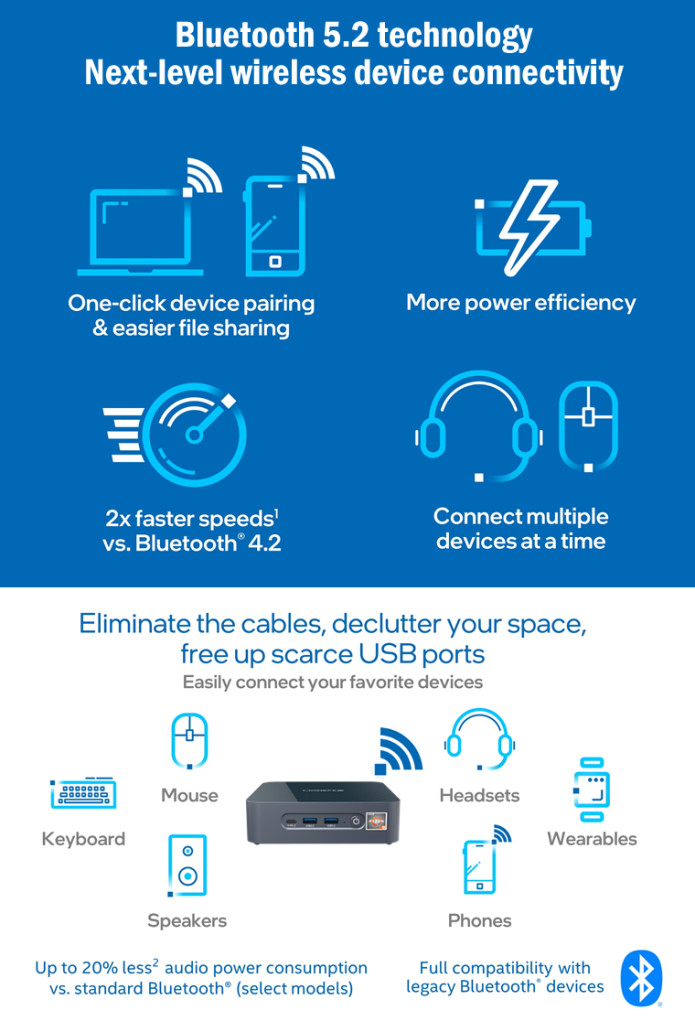 Dual high-speed Gigabit ports, supporting up to 2.5 Gbps, meet the needs of even the most demanding applications and users.
Integrated Wi-Fi 6, powered by the Intel AX200 radio and 2x2 MU-MIMO antennas, allows up to 2.4 Gbps wireless transmission rate and includes technology to perform better in areas with other interfering networks. With Wi-Fi 6, you can enjoy faster and more stable wireless links anytime, anywhere.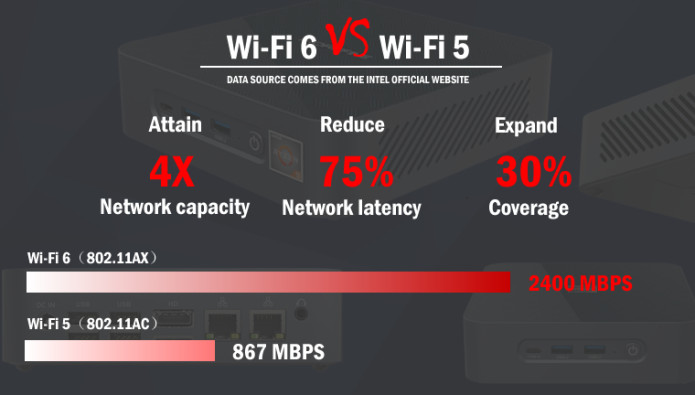 Triple hard drive design: Dual M.2 2280 slots provide access to the highest-speed NVMe storage, and there's additionally a built-in 2.5" HDD bracket for mass storage using SATA.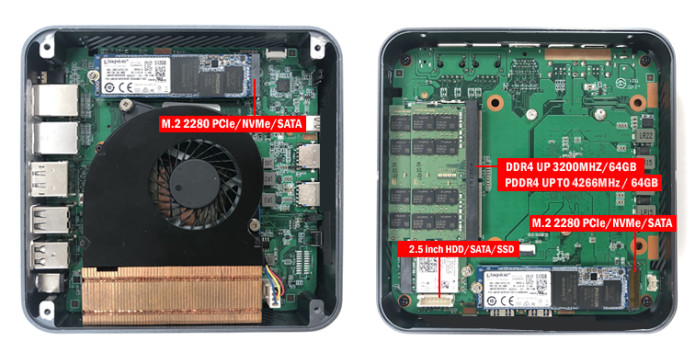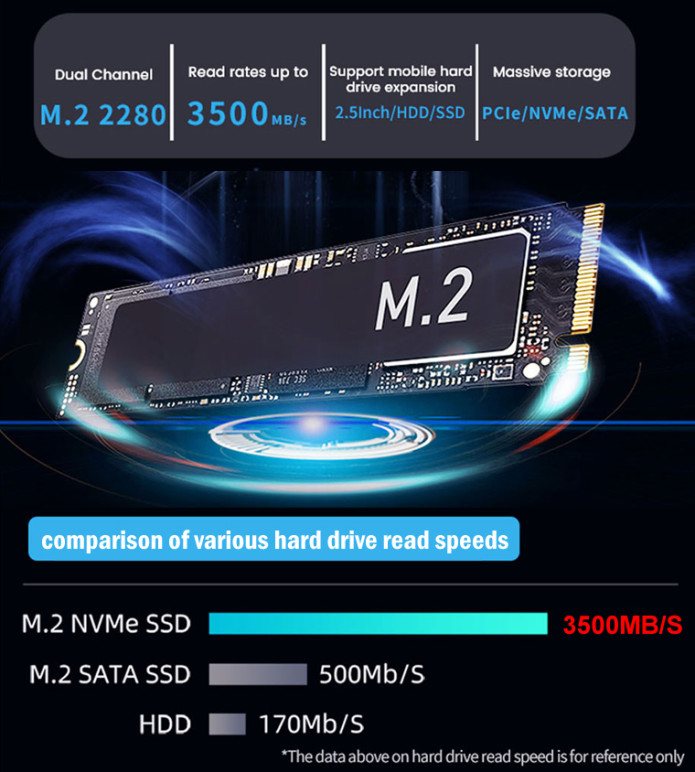 If you have really intense needs, or concerns about future needs, you can connect an external video card using an M.2-to-PCIe adapter (not included).

X6 With three video output interfaces—HDMI 2.0, DP 1.4, and USB type-C—you can drive three independent 4K 60Hz displays for extreme productivity. With the help of other adapters (not included), it's even possible to connect more than three displays to improve your work efficiency, or you could use the HDMI 2.0 output with a 120Hz display.
making the X6 an excellent choice for POS, digital signage, kiosks, and surveillance monitoring.

At just 149 x 145 x 40 mm, the ultra-compact size of the X6 saves more space on your desk, making it perfect for any office or home.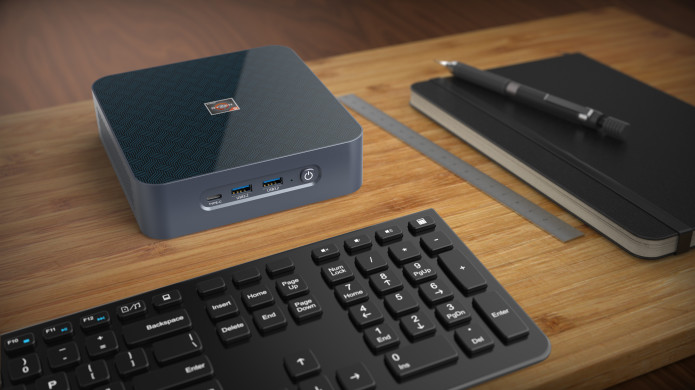 the X6 can easily be mounted on the back of a VESA-compatible TV or monitor to save even more space. (VESA bracket,Non-standard)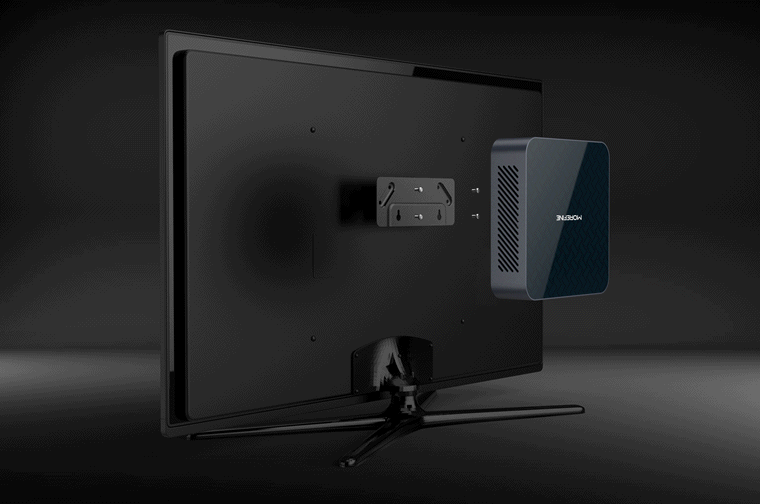 To make sure everything keeps running smoothly even under the highest load, our 120-watt power adapter ensures the machine has a stable power supply. The high-quality, durable, and lightweight power supply will support your X6 and anything you can do with or connect to it, like charging your phone, backing up your data to an external hard drive, and scanning documents at the same time.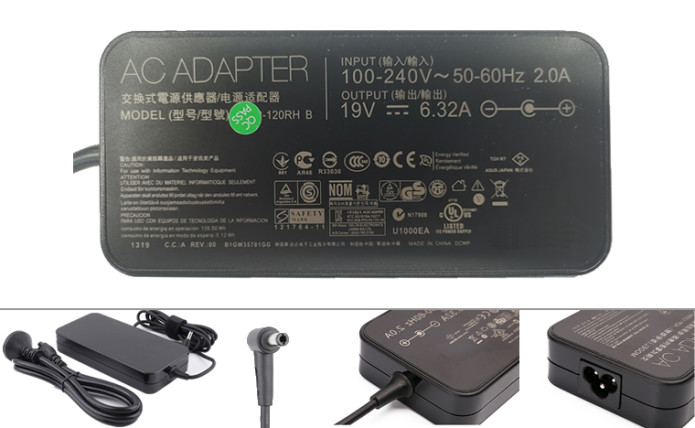 The body is made of a high-strength, lightweight aluminum-magnesium alloy, making the X6 sturdy but avoiding unnecessary weight. The top panel is designed with a wear-resistant mirror finish, which shows off the unique design and craftsmanship while preventing scratches.


The X6 works with Windows 10 and meets the requirements for the upcoming Windows 11 release, as well as Ubuntu 20.04 LTS and other recent Linux distributions.
Our BIOS lets you set the CPU TDP and other parameters. However, nonexpert should be carefull using BIOS.


With the flexibility to choose and use your own monitors and M.2 storage or peripherals, plug in half a dozen USB devices up to USB 3.2 Gen 2 and USB-C, connect to your 2.5 Gbps Ethernet LAN or Wi-Fi 6 network, and sync all your Bluetooth 5.2 or earlier peripherals, the X6 with the AMD Ryzen 9 5900HX can do almost anything.
If you're interested in a better gaming experience, the X6 will refuse lag and heat-induced slow-downs;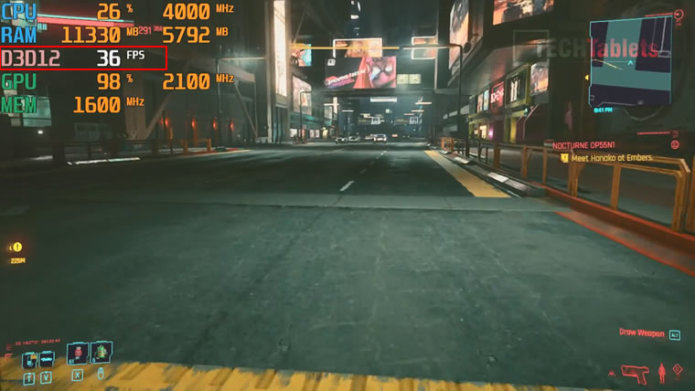 If you're editing video, you'll love that the smooth operation lets the machine get "out of the way" for you to maximize your creativity.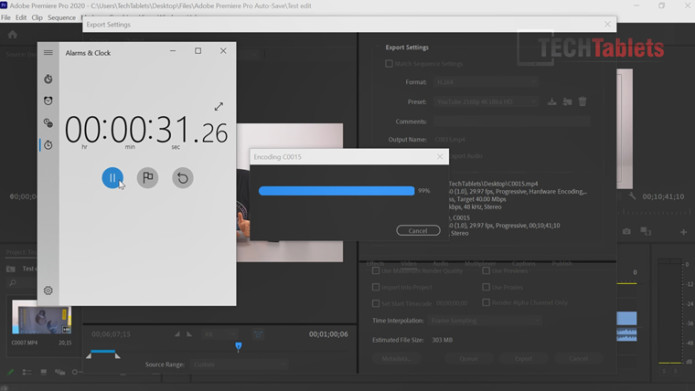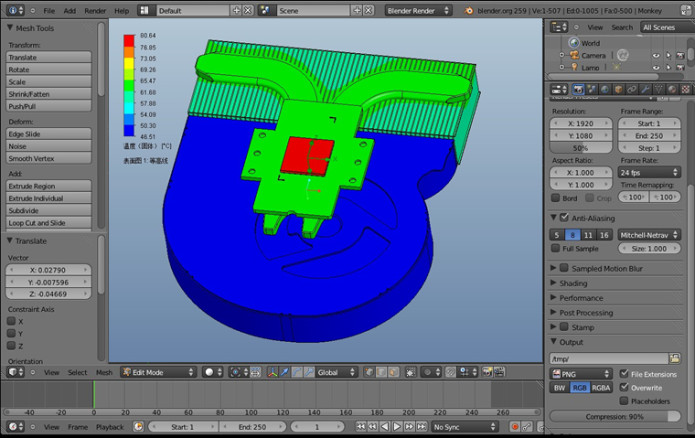 In the Office, the X6 is your right-hand assistant, handling meetings easily, even with an HD webcam, Bluetooth 5.2 headset, and all the unique backgrounds or filters you desire, plus multiple 4K displays will keep all your spreadsheets, code, or other information just a glance away.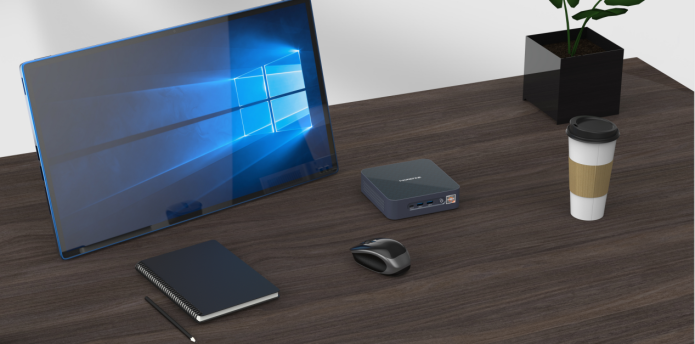 X6 Benchmark Testing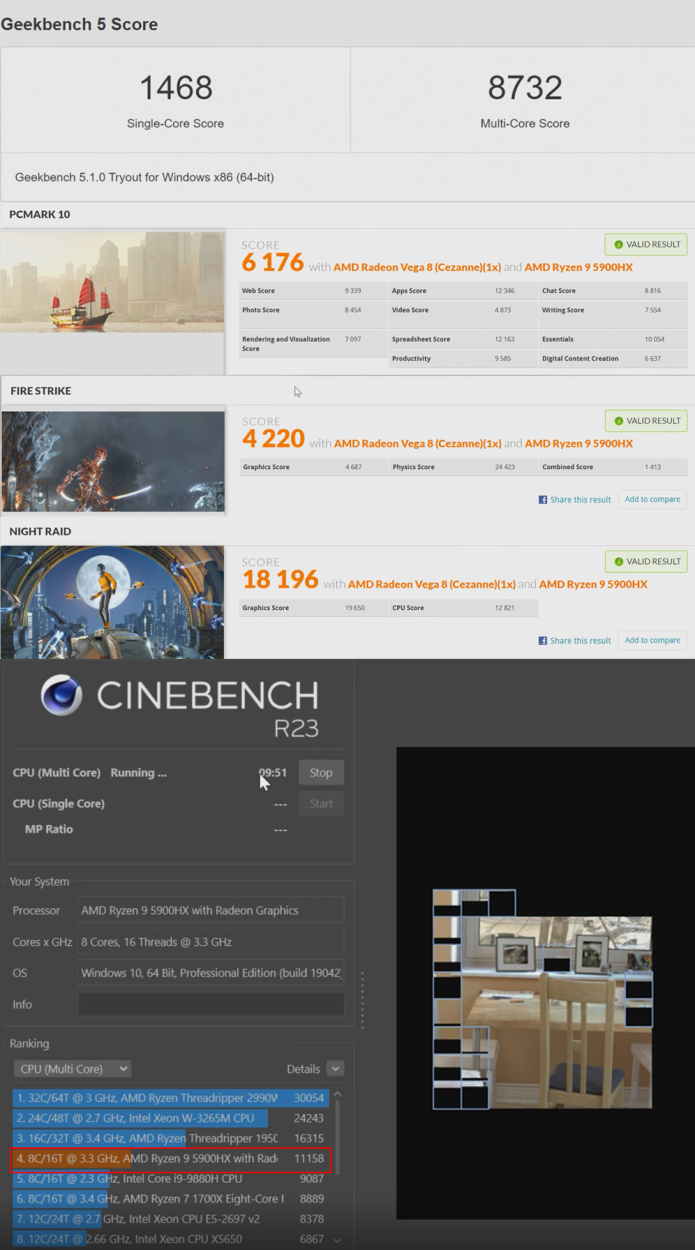 What's in the box?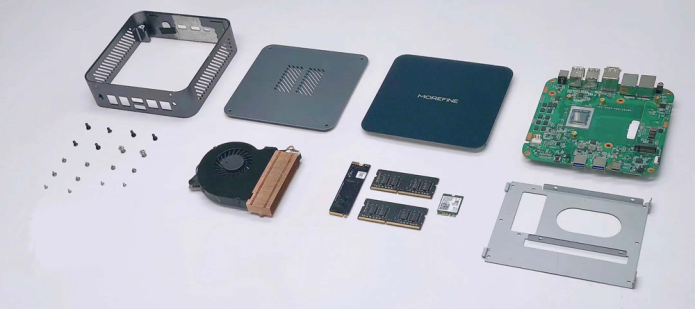 Brand Name: DINGDIAN
Processor Model: Ryzen 9 5900HX
Processor frequency:4.6GHZ
Use: Multimedia
Memory Capacity: 16GB/32GB/64GB
Hard Drive Capacity: 512G/1TB
Model Number: DINGDIAN S500+
Graphics Card Type: M.2 PCle x4 extension
Type: MINI PC
WIFI: Dual WI-FI 6(802.11ax)
Bluetooth:5.2
Operating System: support wing10 pro/11 ubuntu 20.04+
Size: 149*145*40mm(Small Size)
USB interface: USB3.2 Gen.2*2&USB2.0*4
Color: Black
Type-c: 4K 60Hz display&USB3.2 Gen.&15W USB PD
fan :Intelligent fan controlLow-noise fan
Weight:1000g
Material:Aluminum-magnesium alloy shelll
power supply:120W AC laptop power level
Q1:Can the X6 be used with an external graphics card?
Yes! The M.2 interface supports the same PCIe signaling used by external graphics cards, and can be extended with a cable and dock (not included). Please operate under the guidance of professionals. 
Q2:What operating systems come with X6?Multi-OS Supports?
X6 Come with Windows 10 PRO Pre-install,In addition to the bare-bone version.without OS systems.you need install by yourself.
X6 Supports Windows 10,Windows 11.Linux .Ubuntu .
Q3:Heat dissipation solution
We used thermal simulation data to design a professional-grade pure-copper heatsink with dual heat pipes, which we mate to the CPU using 12W/mK high-thermal-conductivity thermal grease. Combined with our new intelligent "tidal cooling system" and a large-diameter, low-noise fan, we can achieve efficient fan control and heat dissipation to run faster and reduce noise.
Q4:What is the after-sales service?
We offer a one-year warranty. If you have any problems with your mini-PC, please contact our technical support: service@dingdianpc.com
Q5:Will the Mini PC be shipped to my country? Am I responsible for taxes and duties in my country/region?
FREE Shipping!About taxes, We take sea freight or express delivery .sea freight to our warehouse in each country and then delivery is not required to bear customs duties, express delivery is required to consult the corresponding country's policy. We cooperate with logistics companies in the United States and Europe and other countries have cooperative warehouses, the vast majority of countries are not required to pay customs duties.
Q6:What I/O interfaces are available?
2*USB 3.2 Gen. 2 type-A
4*USB 2.0 type-A
1*USB 3.2 Gen. 2 type-C
2*RJ45 LAN (1*2500M-RTL8125BG + 1*1000M-RTL 8111H)
1*HDMI2.0
1*DP1.4
1*DC-IN
1*3.5mm audio output jack
Q7:Is it possible to overclock the CPU TDP?
The BIOS allows for you to control fan speed and power consumption, supporting TDP 45-54W operation.
Q8:How to adjust GPU power consumption?
In order to maximize the release of performance, if you do not need too high power consumption or still want to improve power consumption can be adjusted in the following way: boot up and press the Delete key, and then select advanced--AMD CBS--NBIO COMMON OPTIONS--SMU COMMON OPTIONS--SYSTEM CONFIGURATION.
But we strongly discourage non-professionals to adjust power consumption, please be careful!
Q9:How many monitors can be connected at the same time with the highest resolution output?
The machine can be directly connected to 3 external monitors: one via HDMI 2.0, one via DP 1.4, and one via USB type-C. The maximum resolution is 4K @ 60Hz. Four or more monitors can be accommodated with the help of other external devices.
Q10:About noise,How to adjust Fan speed ?
The size of X6 is only 149*145*40mm, the volume is very small and has perfectly utilized the internal space, in order to ensure good heat dissipation our fan speed is properly adjusted, if you want your machine to be quieter you can adjust the fan speed by the following way: boot up and press Delete, then ADVANCED--AMD CBS--NBIO COMMON OPTIONS--SMU COMMON OPTIONS--FAN CONTROL under adjust the fan speed.
Q11:Can I power the machine from the USB-C port?
It is possible to power the machine from a USB-C power supply, but the USB Power Delivery (PD) 3.0 specification provides for a maximum of 100 watts (20V @ 5A), which is less than we recommend. To guarantee system stability under heavy load—and especially if you raise the TDP—we recommend a 120 W power supply, meaning either the supplied AC adapter, or a USB-C power supply that exceeds the PD 3.0 specification (20V @ 6A).
Q12:RAM &SSD Description
The official brands of memory used are as follows:
SAMSUNG(DDR4 2666MHZ/3200MHZ), Micron (DDR4 2666 MHZ), Lenovo (DDR4 3200 MHZ)
The official brands of SSD used are as follows:
Kingston,Micron,HP,WD,ADATA
We promise to use only first-tier brands of DDR4 and SSD as standard, and the above brands are shipped randomly to ensure the original and genuine products.
Q13:About Bare-bone Suggestions for use
Currently more than 95% of the brands on the market can be supported, please give preference to international brands such as SAMSUNG, KINGSTON, Micron,Lenovo, WD, HP, ADATA  for more stable performance.
If you buys the DDR, SSD installation and finds no boot screen, the fan turns but the power light does not light up, the probability is that the DDR, SSD is not compatible, it is recommended that customers follow the recommended brand to buy the corresponding accessories.
Q14:What Alloy casing + CPU and hard disk insulation Design?
Aluminum alloy shell is more conducive to heat dissipation, this originated from the design of Apple notebooks.
CPU peripheral devices covered with high-temperature insulation mylar, to prevent the risk of short circuit.
Comes with 2.5 inch hard drive insulation protective sticker to prevent the hard drive from contacting the motherboard device when installed to cause a short circuit.
Q15:What is the maximum resolution or refresh rate for the HDMI & DP &Type-C ports?
HDMI & DP &Type-C ports Maximum resolution can support 4K :4096×2160,
HDMI & DP &Type-C ports Refresh rate:60hz   HDMI 2.0 ports max to 120hz.
Q16:Are there thunderbolt ports?
AMD no supports thunderbolt ports
Q17:WiFi has been compatible on the following models. 

Intel 3165, Intel 7260, Intel AX200/AX210. 
Q18:.The models that RAM has tested are as follows: 
Samsung DDR4/3200MHZ/2666MHZ Magnesium DDR4/3200MHZ/2666MHZ Lenovo DDR4/3200MHZ/2666MHZ Kingston DDR4/3200MHZ/2666MHZ RAM capacity of 4G 8G 16G 32G are compatible 
Q19:Support ECC RAM? 
YES. X6 Support ECC RAM 
Q20:Does it have VR support? 
Theoretically supportable, but no targeted testing done 
Q21:Download Auto-Detect and Install Updates for Radeon™ Graphics and Ryzen™ Chipset Drivers for Windows®
https://www.amd.com/en/support